Box Office
Click. Sell. Redeem. Box Office managers will enjoy cutting edge tools to get patrons through lines fast all while keeping an eye on real time event detail they need to make critical decisions.

You can use any mobile device with a camera to scan tickets. The process is so fast, easy, and reliable volunteers or trained staff can use them with only minutes of training.

Sales
Dedicated Box Office App
Our Box Office App can be accessed from any internet enabled browser. It serves as your front of house management tool where admins can process payments for any product in the system: tickets, donations, memberships, and ticket packages.

The admin user experience is designed to dramatically reduce the number of steps needed to process in-person and remote sales while simultaneously providing a simple yet powerful way to complete critical customer service tasks.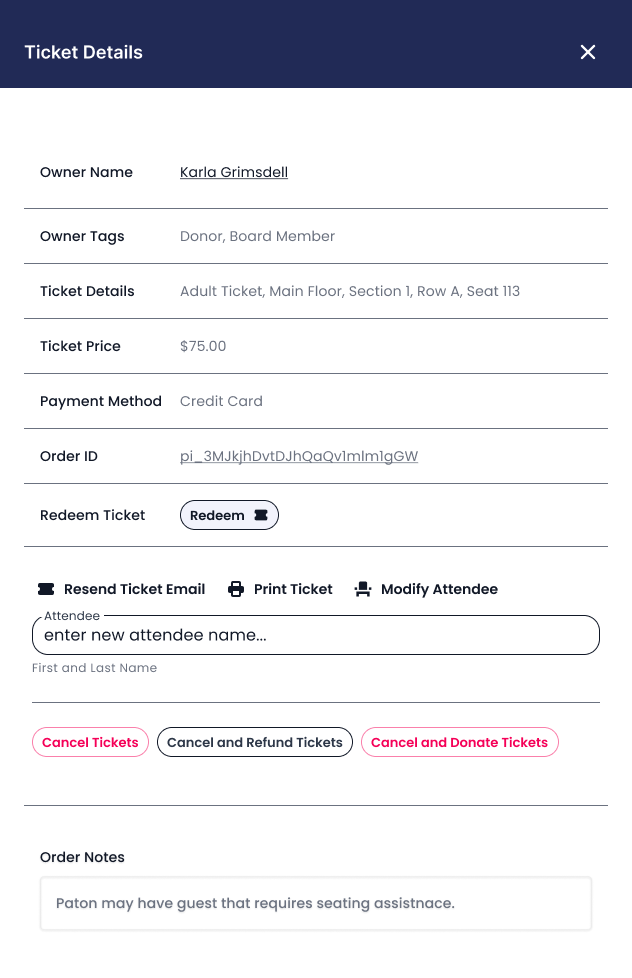 User Search
Our dynamic database architecture utilizes typeahead and predictive search functionality so you can find users quickly.
Order Histories
Access a patron's entire order history where admins can manage ticket orders, resend ticket emails, modify recurring donations, and more.
Fast Transactions
Transactions are measures in seconds, not minutes. Tools like auto-redeeming tickets at the time of purchase save those extra seconds needed to get the show started on time.
Processing Payments
Safe, Secure, And Reliable
Each user maintains their own payment gateway account with our provider, Stripe. There are no setup fees and in addition to Stripe's special nonprofit rate, you'll benefit from simplified PCI compliance along with additional financial reconciliation and reporting. UpStage handles everything related to set up, integration, and customization to help create a uniquely unified checkout experience.
Your money stays with you. Fast, predictable payouts directly to your organization's bank account. Opt for rolling, weekly, or monthly schedules.
Google and Apple Pay. Enhance patron experience across all device types by offering faster checkout options that use Google and Apple Pay.
In-person payment processing. Your annual license fee includes connecting to the in-person credit card terminal offered by Stripe.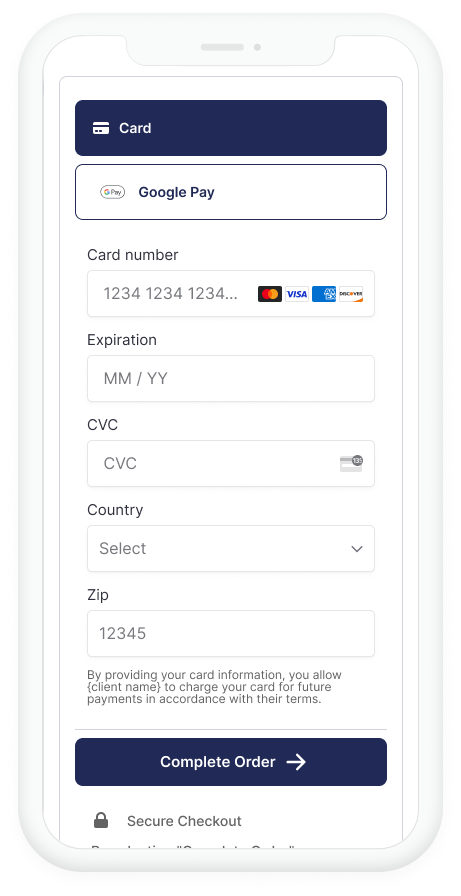 Always Selling
Front Of House Joy
UpStage provides a unique front of house management app that provides exactly the information your managers need to make faster, better-informed decisions.
Process tickets at the sales desk, at the door, on the move. The app is designed to shine on tablet or notebook devices but is fully responsive to accommodate any need. Everything will feel so intuitive you'll wonder why no one has done it like this before.
Instant Redemption
Auto-redeeming single ticket sales at the point of sale is a great way to avoid a secondary redemption scan process for intimate events or when you need to get those last-second walk-ups into the hall in order to start on time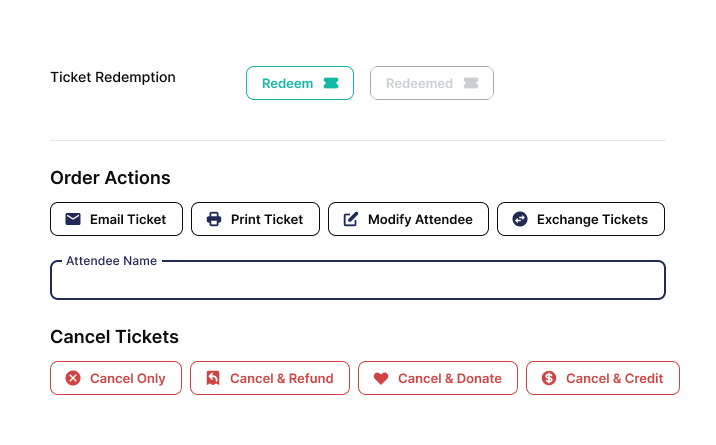 Customer Service
UpStage makes it easy for managers to find, print, resend ticket emails, or redeem tickets left in someone's name.
Adding, editing, and removing names from attendee lists is quick and simple.
It only takes a single click to cancel, cancel and refund, or cancel and donate a ticket purchase.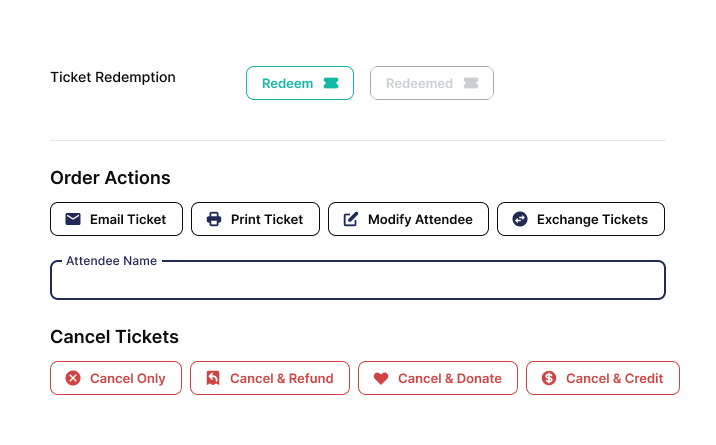 Real-Time Redemption Data
Managers can see which patrons have checked in, total attendance and capacity percentages, and redeem or unredeem any ticket manually right from the app.

Redemption
Lightning Fast Ticket Scanning
Give your patrons a safe and seamless entry experience for in-person and virtual events. UpStage provides a dedicated ticket scanning app that delivers a wealth of message feedback for successful and alert scan results.
Front of house staff see detailed seating information on a successful scan while alert messages inform them of everything from an already scanned ticket, a ticket for the wrong show, or a non-show ticket.
Easy-To-Use. Point and scan simplicity. Scan print and digital tickets using traditional or contactless scanning entry points.
Dedicated App. There's nothing to download or setup. Our dedicated web app works with any Android or iOS mobile browser.
Flexible Hardware. We provide recommendations for handheld mobile scanning devices to fit every budget and requirement.
No-app solutions. No need to use an app if it isn't needed and the Box Office sales functionality allows admins to auto-redeem at point of sale or manually within the attendee list.