Our CRM Ecosystem
UpStage takes advantage of the same cutting edge database environment as Amazon. The result is a fast and flexible database architecture that provides the best possible end user experience.
While all your data lives in the same place, we've created a unique ecosystem that provides different user interfaces and features for each user group: admins, box office managers, front of house staff, and most importantly, your patrons. Those interfaces live as four distinct apps.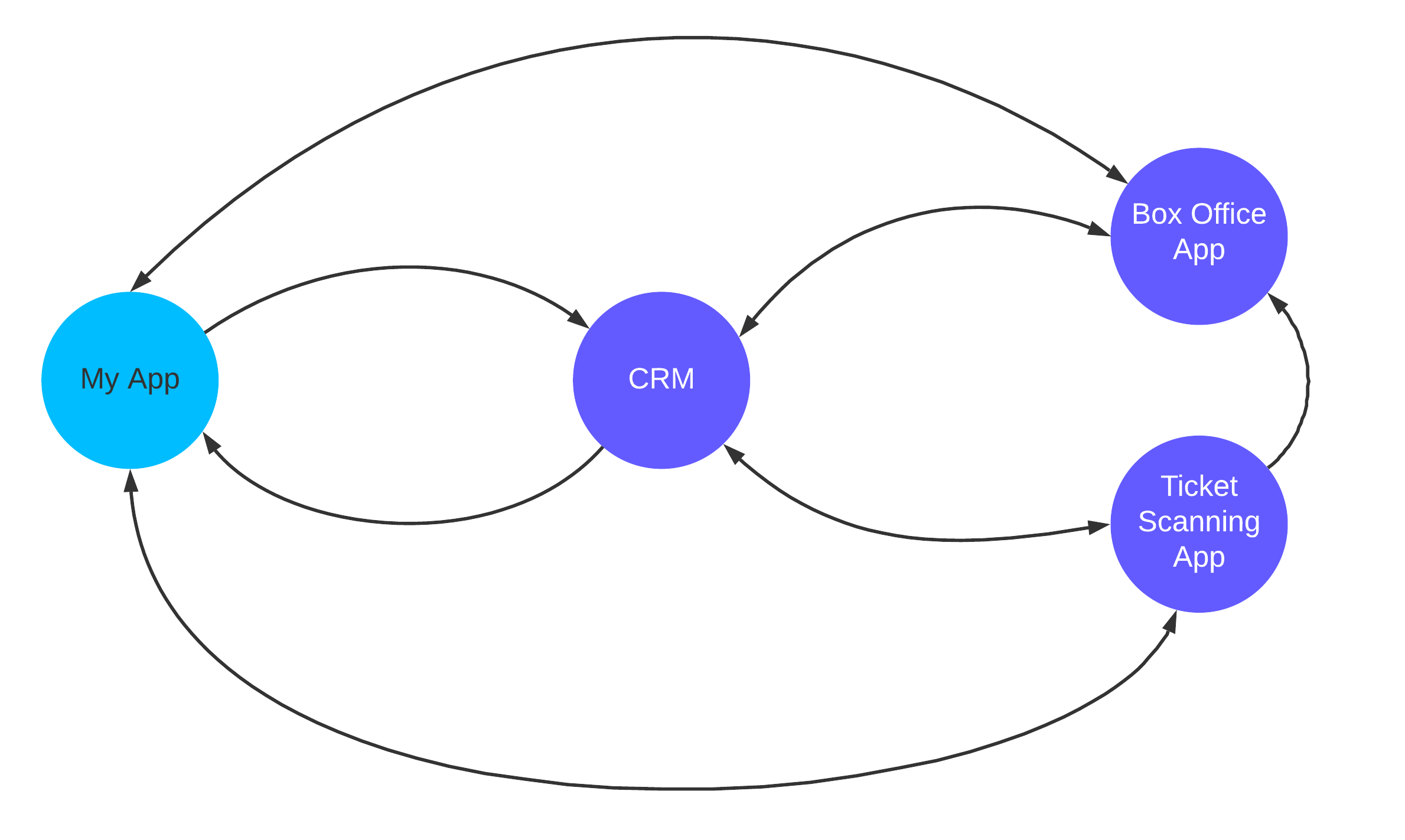 ---
My App
A patron portal where users find meaningful engagement with the system. Purchase and manage tickets, access virtual and streaming content, and manage their memberships and ticket packages. Learn More
CRM App
Provides admin level users access to every part of the system. Brings everything box office, development, marketing, outreach, and education team members need together in one cohesive location.
Box Office App
A front of house management tool where managers can process payments for any show in the system by selling tickets directly from the app. Print, send tickets digitally, or redeem tickets at the time of sale. Learn More
Ticket Scanning App
A dedicated gate control and admissions app. No special hardware required, our cutting-edge ticket scanning app works on any Apple or Android powered smartphone. Learn More
A Fully Hosted And Managed Service
Designed especially for arts organizations, no other system gives you so much while keeping things so simple. UpStage eliminates the need for expensive investments in hardware and specialized database managers.
We replace all the old-school pain points of server management, data storage devices, limited geographic access, outdated version-based software, and siloed data with a platform you can securely access from anywhere with hassle free updates that deliver the latest of cutting edge awesome.
Perfect For Remote Working
Access and data aren't tied to a device or location. Your team can access everything they need from anywhere, enabling real-time collaboration.
Fast & Secure
UpStage delivers consistent single-digit millisecond performance; in English, we can scale to 10 trillion requests per day with 20 million requests per second, all with industry leading encryption.
Flexibility Like You've Never Experienced
Traditional CRMs are rigid and complex. They are expensive to customize, assuming they even allow customizations. UpStage lives to customize and the comparative cost is pennies on the dollar.
So. Much. Awesome.
We would love nothing more than to tell you everything about everything but as you can see from this system map…there's a lot that goes into the CRM.

To make things easier, we've created several dedicated pages that break everything into bite-size morsels for you to explore.