Modern Membership Management
Power your membership functionality with automated access control to content/products and member discounts. An innovative membership product wizard makes it easy to set up one-off or recurring billing schemes.
It's so intuitive you'll wonder why no one has done it like this before.
---
Recurring
Powerful payment scheduling tools provide daily, weekly, monthly, or annual auto-charge options. Even set custom intervals!
Unlimited
Create any number of memberships and sell as single member or allow primary members to add friends and family.
Immediate
Patrons enjoy benefits and earn rewards from the moment a membership is successfully purchased.
Bundle
Easily combine membership products with ticket packages or subscriptions and attach any combination of benefits.
---
Patron Focused
UpStage's extensive user testing helped develop one of the most meaningful user experiences available. A modern member portal gives primary members a detailed overview of membership status, control over billing details, benefits management, and dedicated group management controls for multi-member plans.
The checkout automatically incorporated benefits like credits, promotional codes, vouchers, and fee waivers inside the user experience so patrons never need to worry about missed opportunities.
Experience Management
High contrast color codes make it easy for front of house and concessions staff to confirm active members.
Auto Engagement
You'll have direct control over the array of automated messages that help keep members engaged and renewed:
New Member Welcome
Membership Ending Soon
Membership Renewal Reminder
Membership Ended
Membership Cancelled
Member Added/Removed from Group Membership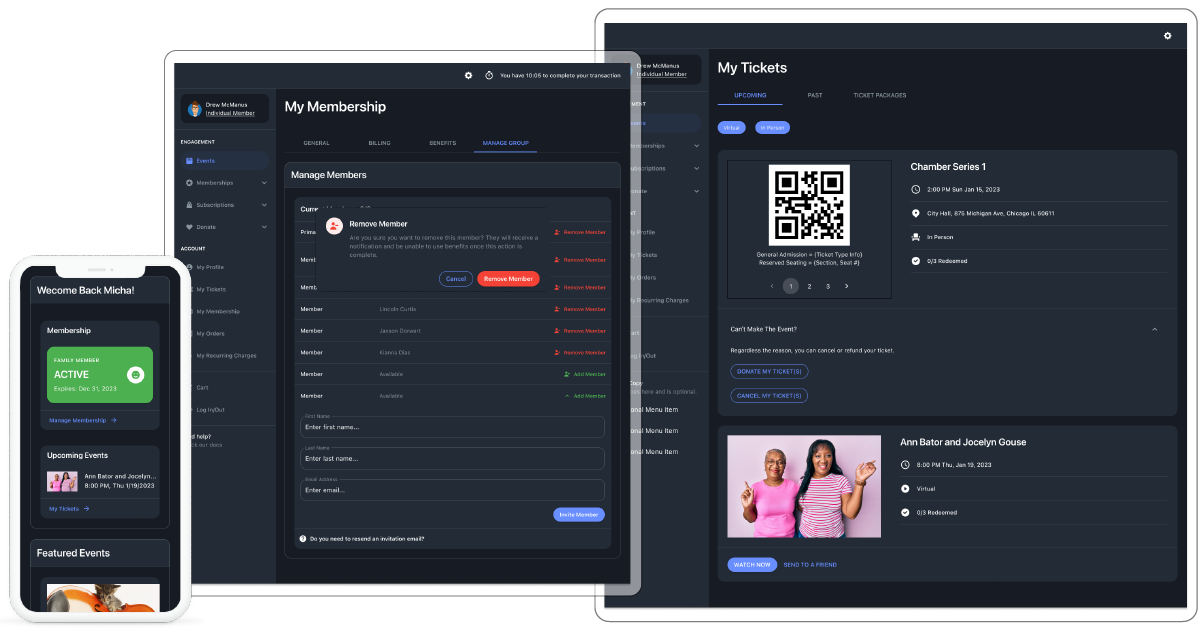 Single Or Groups
Membership products can be set up as single or multi-member plans. You set the maximum number of members per plan and the primary member can add, edit, or remove members through their dedicated group management control panel. They can also reach out to your customer service team to do those tasks for them.
Group plans require each member to have an account and UpStage provides a seamless experience for new users inviting to a membership plan to create an account and begin enjoying shared benefits. UpStage automatically creates a Group Connection when a multi-member plan is purchased so you can begin tracking group activity and recording member revenue generation.
Benefits
UpStage provides a remarkably well thought out benefit management process to keep things simple. Once a benefit is created, it can be assigned to any membership or ticket package while others may be given to users directly or be offered for public consumption.
Benefit Types
Credits: assigned to individual users, a dollar credits are created by an admin and can be applied to any purchase in the checkout.
Discounted Renewal Rates: applied exclusively to membership products, they offer an incentive for continued renewal. Admins can restrict renewal periods or make the benefit available at any time.
Fee Waivers: attached to memberships or ticket packages, waivers can be applied to any type of ticket purchase. You can restrict the benefit to specific events or entire event categories. If you charge more than one type of fee, you can select which ones are eligible.
Promotional Codes: available for public use, promo codes can be set up as fixed amount or percentage discounts and restricted by any combination of eligible and/or required products or limited to specific users or connections. Set start and ends dates/times and even limit the number of times a code can be used by anyone or just a single user.
Purchasing Discounts: simple and straightforward, discounts are applied automatically and can be assigned as a benefit to memberships or ticket packages. You can restrict the benefit to specific events or entire event categories.
Special Access: easily create events, membership products, or ticket packages that only logged in users with a valid membership can access.
Vouchers: assigned to membership and ticket package purchases, they provide users with the ability to purchase event tickets free of charge. You can also set a max dollar value so if the user purchases a ticket with a face value greater than the voucher value, the voucher's max dollar amount is applied as an automatic discount.