Email Communications
Segment. Sync. Engage. We're all about making as easy as possible to send the right message to the right segments at the right time.

Powerful transactional messaging and MailChimp sync will make you more efficient and effective than ever.

Connect Directly To MailChimp
Power List Export Tools
UpStage integrates with MailChimp, a leading provider in the field of email marketing. They offer several pricing plans to meet a variety of needs and offer nonprofit discounts and most users won't need more than the first few tiers of transactional email plans.

You can export directly from any data report or event attendee list in the system!

Integration
UpStage delivers several automatic syncing actions with your MailChimp account such as when a user has a Do Not Contact flag assigned, UpStage will modify the user's setting to unsubscribe. It's never been easier to honor patron communication requests.
Familiarity
As one of the most widely adopted email marketing providers, there's a good chance you're already using MailChimp, huzzah! That means UpStage will do the heavy lifting getting everything connected. If you don't, we'll help you with the migration process.
Automation
MailChimp provides powerful tools for campaign automation to reconnect and engage with patrons. When combined with UpStage's direct MailChimp sync, you'll save all sorts of time creating and refining your segmentation to get the most out of your efforts.
Automation
Transactional Messaging
UpStage uses MailChimp's transactional email service for the majority automated transactional and event related communications.

You'll reach new levels of customer service you'll provide thanks to having the ability to check send logs inside MailChimp's dashboards to confirm receipt or see if a message was flagged as spam/junk.
Fine Tuned Control. Inside UpStage's dashboards, you'll be able to customize the timing and content for most of the default transactional messages such as setting the number of days in advance of expiration membership renewal notifications should be delivered.
Craft The Right Message. Customize content for most default transactional messages inside UpStage's admin panels. You'll also be able to adjust message content on the MailChimp end of things. In the end, if it can be customized, you can access it.
Creative Customization. In addition to default messages, such as day-of event reminders, we love helping users identify creative ways to use transactional messaging. E.g., creating a notification that goes out to any users with an unredeemed ticket? UpStage's extensibility makes this easy and affordable.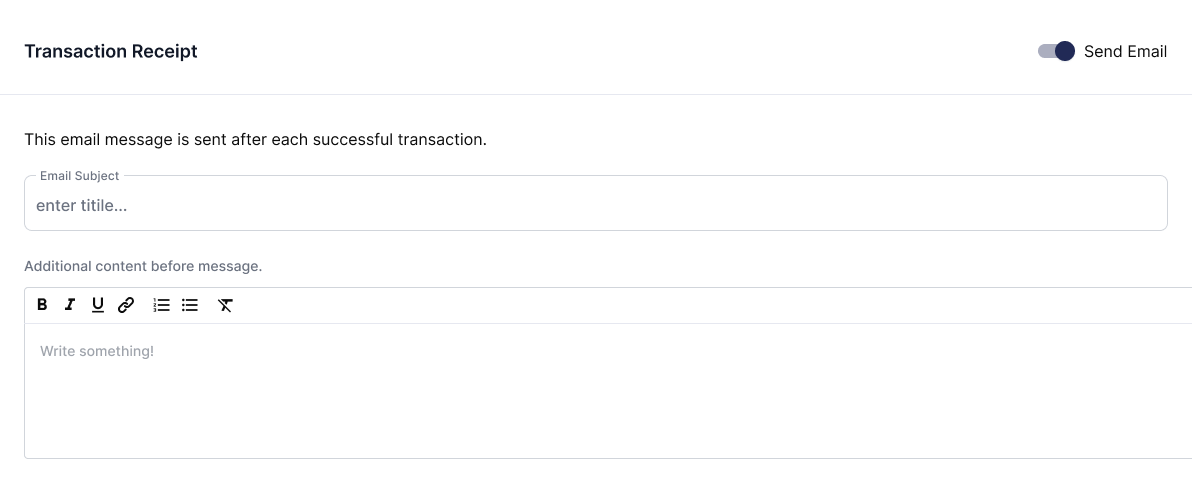 Take Action
Seamless MailChimp Integration
UpStage is one of the only providers that offers synced functionality with your email marketing provider. You can export directly from any report and even from event attendee lists! Imagine how much time you'll save thanks by sending segmented campaigns to an event's ticket buyers with only a few clicks.
Sync From Data Reports
Start the export process by refreshing all of the data coming from MailChimp. We pull Audience names, Tags, and Contact Status.
Select the audience you want to add email subscribers then determine if you want to also include first and/or last names.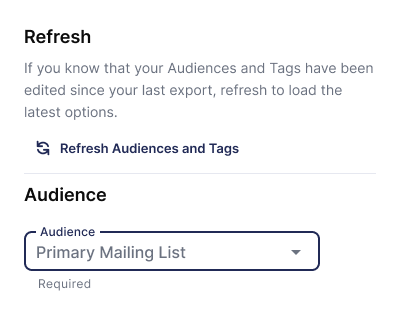 Create New Or Use Existing Segments
One of our favorite features about the export process is the ability to select from existing MailChimp Tags or create a brand new tag right in the exporter.
You can add as many new tags as needed for each export.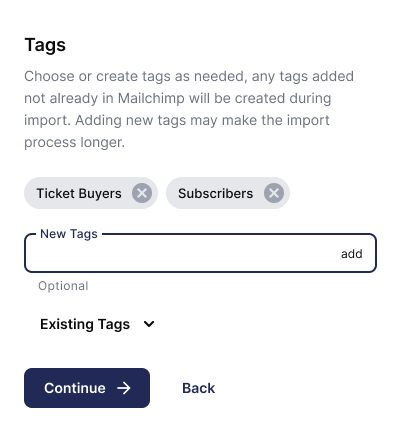 Meaningful Feedback
Once you initiate the export, the system will keep you apprised of the export status.
When complete, you'll get one of three potential results: success, partial success , or fail.
We provide detailed information about what happened for any results other than complete success.