Business Intelligence
Report. Research. Action. UpStage provides the tools you need to analyze current and historical data, with the objective of improving strategic decision-making and providing a competitive advantage.

There's no need to hire dedicated database managers to find your data, our reporting and dashboard tools are designed to be used in real-world operating environments.

All The Options
Actionable Results For All User Levels
UpStage provides a flexible range of metrics and analytics features that begin providing insights from the moment you begin using the system.

It doesn't matter if your a data-newbie or an old-hand, our user-friendly report wizard provides everything you need to begin creating one of three types of rich-data reports.

Ask us about our Instant Gratification Reports, they are some of our favorites for analyzing must-have business intelligence.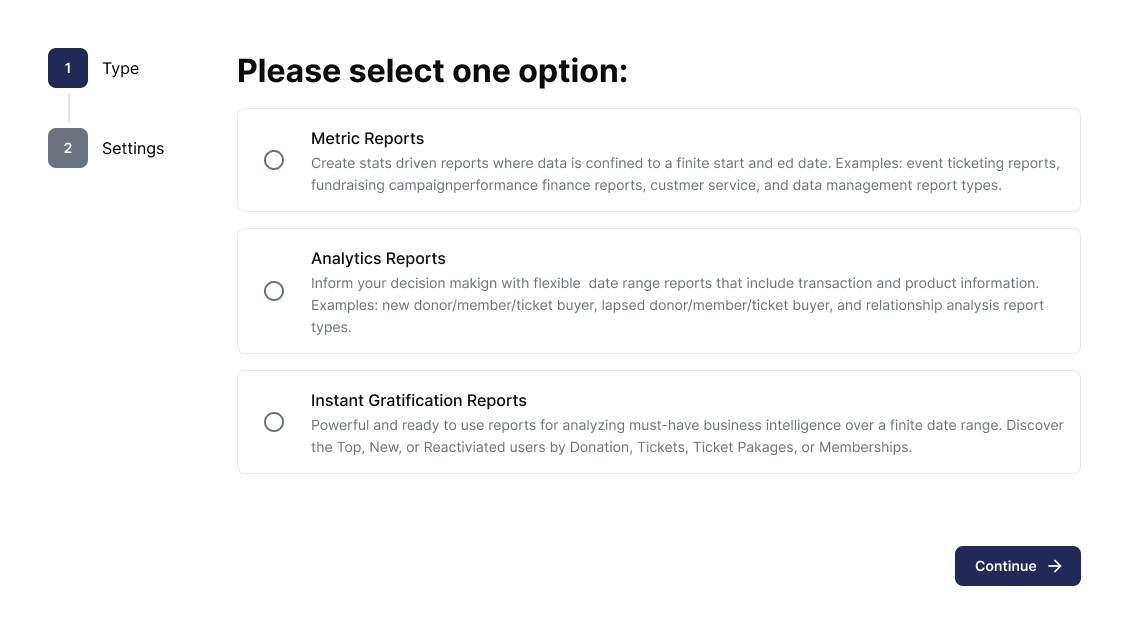 Data Visualization
Sometimes you don't need to run complex custom reports and just need to see critical data. UpStage delivers a wealth of "just the facts" data visualizations embedded into key admin panels that present data in easy to digest charts, graphs, and tables.
Un-Silo Your Data
UpStage's NoSQL database allows all team members to share and utilize data regardless of where it originates. Sometimes, marketing team members need access to fundraising data or you need to create special executive leadership dashboards. UpStage makes it easy.
Built For Everyone
Each team member can create and save custom reports and dashboards through an intuitive user interface. It's easy to create interactive filtering and/or conditional sorting then share those reports and dashboard with colleagues.
Customize
Advanced Upgrades
For users looking for something beyond the default Business Intelligence features, upgrade to next level understanding by introducing advanced machine learning and user interaction.
Explore your data by asking questions in natural language, exploring through interactive dashboards, or automatically looking for patterns and outliers powered by machine learning.
Take Action
Seamless MailChimp Integration
UpStage is one of the only providers that offers synced functionality with your email marketing provider. You can export directly from any report and even from event attendee lists! Imagine how much time you'll save thanks by sending segmented campaigns to an event's ticket buyers with only a few clicks.
Sync From Data Reports
Start the export process by refreshing all of the data coming from MailChimp. We pull Audience names, Tags, and Contact Status.
Select the audience you want to add email subscribers then determine if you want to also include first and/or last names.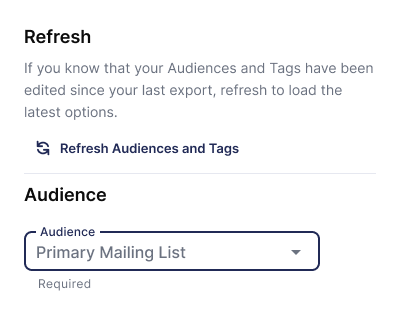 Create New Or Use Existing Segments
One of our favorite features about the export process is the ability to select from existing MailChimp Tags or create a brand new tag right in the exporter.
You can add as many new tags as needed for each export.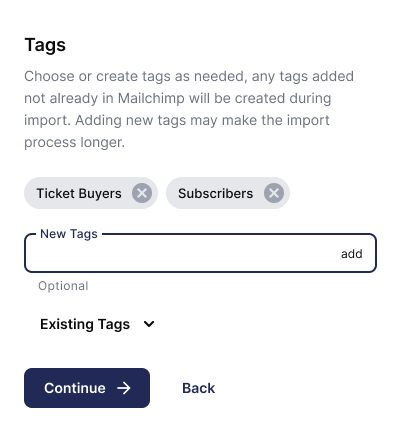 Meaningful Feedback
Once you initiate the export, the system will keep you apprised of the export status.
When complete, you'll get one of three potential results: success, partial success , or fail.
We provide detailed information about what happened for any results other than complete success.