Fundraising
Click. Donate. Done. UpStage provides unrivaled functionality for creating fast and mobile friendly single and recurring giving options.

Let donors choose recurring intervals that work best for them instead of being forced into old-school giving frequencies.

Straightforward & Simple
User Friendly Campaign Management
Design campaigns quickly with a user experience fundraising professionals will love. Designed especially for nonprofit performing arts organizations, experienced and new fundraisers can hit the ground running with ease. Achieve a comprehensive overview with intuitive dashboarding that tracks key fundraising performance metrics and makes it easy to drill down into the additional details you want.
Campaign Tracking
Each campaign includes a powerful dashboard that provides real-time revenue performance along with linked product and order activity so you can follow and track how donors respond.
Funds & Programs
Funds help allocate and track revenue at the highest allocation level while programs allow donors to support specific components of your mission driven activity.
Custom Report Tags
Create your own tags to use when generating custom reports. Group tags together and run reports to see how specific areas of your fundraising efforts are performing.
Maximize Revenue
Single And Recurring Giving
UpStage provides unrivaled functionality for creating a wealth of recurring giving options. Donors can choose recurring intervals that work best for them instead of being forced into obligatory monthly or weekly giving frequency.
Attach Benefits
Reward Donors
Give your donors more than a "thank you" by attaching the full array of Benefit Products to a donation.

Purchase discounts, fee waivers, and vouchers help your donors feel heard, appreciated, and engaged. Assigning them to a donation product is as easy as flipping a switch.
Complete Control
Page & Component Builder
UpStage's simple, customizable donation form and page builder is a game-changer. Create an array of dedicated donation pages that can include as much or as little options as you need. We offer a unique page builder wizard that walks you through each option to help you create the perfect donation page.
Once a page is published, you can put data driven decision making into high gear by editing layouts and component options based on what your metrics are telling you.
You'll never need to worry about leaving money on the table because your donation forms don't offer the flexibility you need.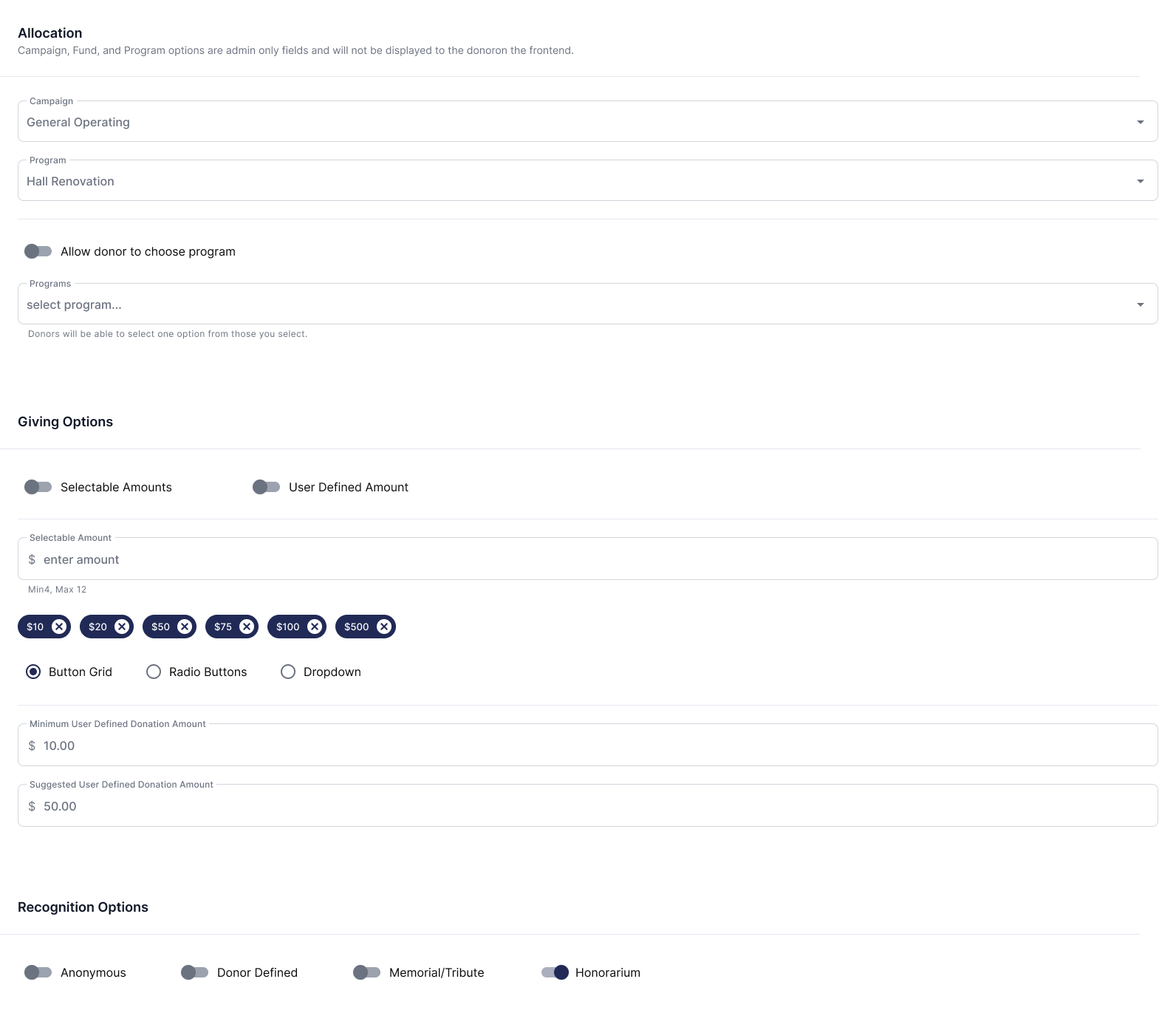 Track Progress
Additional Fundraising Tools
UpStage helps you at every stage of the contribution process. Manage sophisticated donor cultivation and fundraising efforts with built-in prospect and activity tracking. Intuitive dashboards provide both overview and detailed views of ­individual donor efforts, grant management, and pledge tracking. You'll use these tools to cultivate lifelong relationships regardless of attrition and raise more money.
Donor Cultivation
Assign principal fundraisers, donor status, track progress with dedicated stages, and assign target ask dates and amounts. You can also arrange custom recognition options.
Pledge Tracking
Assign pledges to campaigns or programs and see that projected revenue appear in the campaign dashboard. Maintain detailed notes, attribution records, and expected delivery dates.
Grant Management
Whether you use in-house or outsourced grant writers, you'll have an easy time tracking progress at every stage of the application process. Process grant revenue on its own or connect to campaigns or programs.