Virtual & Streaming Events
Easy to use. Stunning to experience. UpStage provides unmatched flexibility and ease when offering virtual events.
Expand Your Mission Reach While Diversifying Your Revenue Streams
As the only ticketing CRM designed from the ground up to accommodate Virtual events, selling access to live stream and archived virtual events is easy for admins to set up and even easier for patrons to purchase and enjoy.
Patrons will experience the same purchase process for both in-person and virtual event tickets while enjoying the ease of watching on any device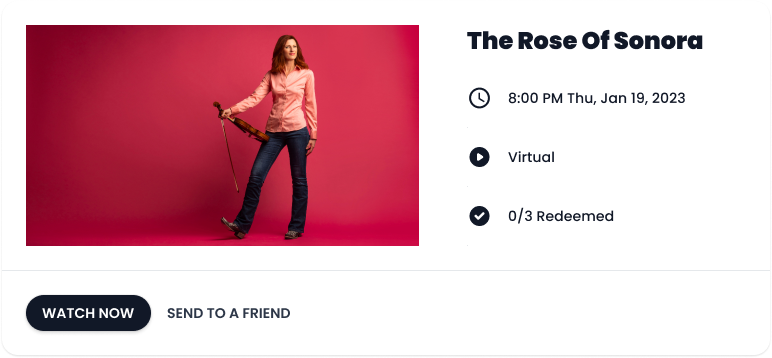 So long as it can be streamed, it can be sold as a live event so don't restrict your efforts to only traditional events but consider selling access to workshops, lectures, talk-backs, etc. You don't even need to charge a fee and instead, use free required registration as a lead-gen tool to bolster your user base and mailing lists.
Live Streaming
YouTube or Vimeo both serve as default stream providers and with some customization, we can connect with additional platforms. When allowed by the provider, we can also integrate Live Chat functionality along with the integrated video stream.
Video On-Demand
Any time you need to deliver a virtual event, UpStage provides the ability to limit the length of time an archived event can be accessed, both before and after the actual event date. This makes using pre-recorded content or creating digital archives, a snap.
Hybrid
Need to sell both in-person and virtual tickets to the same event? Not a problem. Virtual events are a default ticket type, so you'll create those the same way as a traditional in-person ticket.
Increase Revenue With Integrated Donations
You can add any donation product to the virtual event page.
Unlike other providers, the payment fields are integrated into the form so there's no need for a patron to leave the event and miss anything in order to complete the donation.
Completing the donation won't reload the screen or interrupt the stream in any way; patrons can even donate multiple times during the same stream!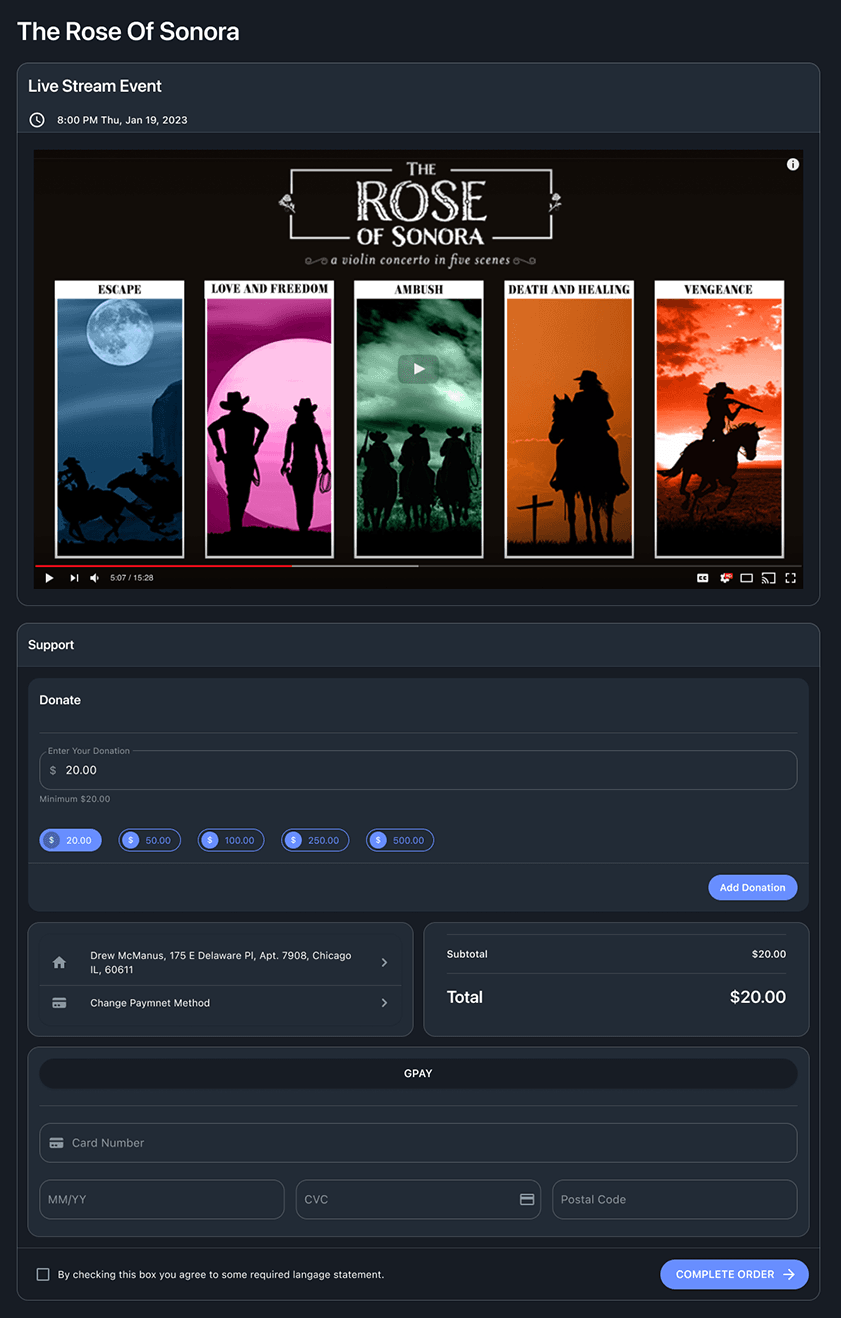 Secure Access And No Link Sharing
Upstage will securely pull your video content from YouTube or Vimeo, so patrons are only able to watch when they are logged into their valid UpStage user account and have a valid ticket or pass.
This makes it much easier to maintain compliance with licensing and union agreements while preventing link sharing from eating away at your revenue.
Stop Leaving Money On The Table
With UpStage, virtual tickets can be sold with quantity values thanks to our innovative Send To A Friend feature. For example, a patron wants to invite two friends in different locations to watch your event with them. They can purchase three virtual event tickets and send each friend a dedicated link token that requires them to log into the patron portal to access the event.
All patrons need to do is select the "Send To A Friend" button on their virtual ticket, enter the email address of the recipient, and UpStage does the rest. If the recipient doesn't have an account, they'll be prompted to create one in order to redeem the virtual event ticket. The notification email includes instructions and links.